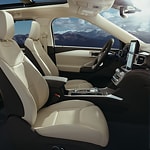 Ford Explorer excels in nearly every category, which explains its enormous popularity among three-row SUVs. In addition to its power, efficiency and safety, Explorer has some serious brains in the form of tech features. Here are two such brainy tech features that our Don Rich Ford Co Inc team really likes.
Auto Collision Avoidance

Explorer can't drive for you, but it can compensate for intense road conditions that trump driver reflexes. Its Pre-Collision Assist and Automatic Emergency Braking system scans the road at all times, detecting possible collisions with vehicles and pedestrians. When a collision up ahead seems immanent, Explorer brakes automatically.
Stay in Your Own Lane

?You've heard the "stay in your lane' advice before. Explorer helps you stay true to that advice. It scans road markers and the vehicle's position between lines. Unintentional drifting elicits an alert, helping you stay a safer trajectory. See these and many other Ford Explorer tech features during a fun test drive at our Villa Rica dealership.