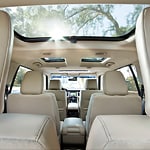 Convenience is one of the things that people look for in a vehicle. They also look for a vehicle that has cool features. The Ford Flex has several convenience features. It will be easy for you to start your car because this vehicle has Intelligent Access With Push Start.
The system can sense when your key is in your pocket or purse, and you are close to the car. After you touch the door handle, all of the doors will be unlocked. After you get inside of the car, you will need to press the start button and press down on the brake pedal.
It also has the MyKey feature. This feature is ideal for people who share the same car. You can designate MyKey so that only certain features work while one is driving. If you want to give the Ford Flex a test drive before you buy it, then you can make a trip to the dealership.