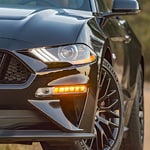 If you are looking for a vehicle with great design, then you have to see what the Ford Mustang has to offer. For the current model year, the Ford Mustang offers some of the best design ideas of any vehicle. Here are two top Mustang design features now available.
When you see a vehicle driving down the road, the first thing that you may notice is the headlights. That's why the Mustang comes with full LED headlights as well as LED taillights. These LED lights are designed to increase the Mustang's visibility while also making the sports car look great.
Inside the Mustang, you will find a sports car that is designed to make the driving experience second to none. That includes optional heated and cooled front seats. These seats make it more comfortable than ever to enjoy a great drive down the road. Both inside and out, the Mustang offers an excellent approach to design.