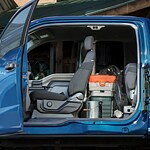 If you're already familiar with the many advantages of driving a full-size pickup and you're interested in adding a new Ford F-150 to your driveway or garage, a visit to Don Rich Ford Co Inc is definitely in order. We're standing by to tell you how you can make one of these popular trucks your own, and we'll offer you the chance to test drive as many models as you like when you stop in.
If you plan to use your F-150 as a towing workhorse, you'll find high-tech systems on board to make that easy and hassle-free. The available blind-spot monitoring set-up is designed to cover the vehicle itself as well as a load of any size that's being pulled behind it.
An optional dash-mounted control panel also allows you to keep in touch with home or work while on the road for the ultimate in confidence and peace of mind.