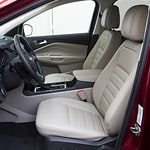 It is great having choices in life, especially when it comes to how you want your vehicle to perform. The Ford Escape is a car-like compact SUV that provides you with the choice of four fuel-efficient engines that come with an eight-speed transmission. When you visit Don Rich Ford Co Inc, you can go for a test drive and experience how these engines perform.
The two gas-powered Ford Escape engines are the 1.5L EcoBoost and the 2.0 EcoBoost. Both engines feature Auto Start-Stop Technology, which lowers fuel consumption and emissions during the stop-and-go nature of city driving. The 2.0 EcoBoost has an additional feature called the SelectShift. SelectShift allows you to switch your eight-speed transmission from automatic to a sporty manual transmission.
The other two engines are the Hybrid and the Plug-in 2.5L iVCT Atkinson-Cycle 1-4 engines. These engines provide you with a good amount of power while giving you a significant amount of savings on fuel costs.